A successful listing of light cross upgrade to new heights
In December 31, 2015, Guangzhou Dassen light Limited by Share Ltd (hereinafter referred to as the Dassen light) officially landed three new board listing, stock code 835277, becoming the first company listed on the new board of the stage lighting manufacturing enterprises.
Diversification strategy shaping national brand
A light was incorporated on 2010, the registered capital of 32 million yuan, is the new generation of national high-tech enterprise R & D, production and sales of LED lighting industry rapid growth.
All along, a light to fighting innovation, highly recognized by the domestic and foreign market for products with their excellent performance and innovation, a number of high-quality LED stage lighting and outdoor lighting has been widely used in the Olympic Games in London, Tokyo and Japan Fuji TV, Brazil World Cup and other major international projects, known as a shining name card Chinese stage lights.
The stage extends as far as the heart goes。 In the eyes of a light of chairman and general manager Xu Faqing, the lighting industry not only made great contribution to the national economy, but also should take more social responsibility. To this end, a light to develop diversified development strategy to "stage lighting, civilian entertainment, landscape lighting, commercial lighting, lighting, lighting, agriculture IOT into six sections, with a big cross + integration to provide the overall lighting solutions, simultaneously launched" Intuiit India show "brand, and in the global launch of trademark registration light industry, trying to create a well-known national brand, has taken a solid step forward for the national career, for national lighting, for the realization of China created the world!
Six plates to create value
"Create brilliance value" is a light enterprise mission. To light as the carrier, value oriented, the six sections complement each other, interoperability.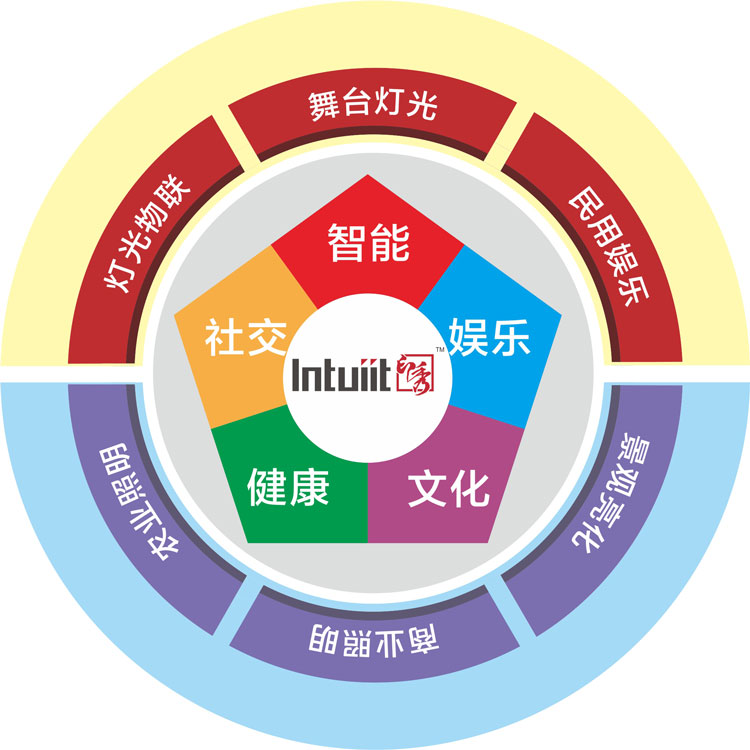 Has nearly two hundred LED lights patent Dassen light, attaches great importance to intellectual property rights, and has become the national high-tech enterprise, Guangzhou city science and technology little giant, Huadu District, the first intellectual property standards of enterprises in a short period of time. Based on the core technology, the pace of development will extend rich light Dadson to landscape lighting field, focusing on cultivating the urgent needs of city landscape lighting and lighting to create the future of art, landscape lighting design team of international level, planning to become the first domestic city landscape lighting and light art "benchmark brand. At the same time, deep commercial lighting and civil entertainment market, healthy lighting concept and stage lighting art into the homes of ordinary people, and the organic integration of IOT intelligent lighting technology, seize the opportunity Internet plus, provides the power engine for realizing agricultural lighting in the long-term development strategy of the country.
Next, a light will achieve sustained upgrade of the original section of the forum to accelerate innovation, enhance brand awareness and influence, expand broader space for development, improve product independent research and development and the scale of production capacity, maintain high transparency and healthy operation, rapid growth, achieve performance on responsibility, adhere to honesty, good quality and service, our customers, employees and the society, as the "China creation" image and make contributions to human environmental protection!
Keywords in the article:
Stage light,moving head light,home party,mini moving head light,street light,flood light